Poor diet a factor in one-fifth of global deaths in 2017 – study
Global survey says diseases such as cancer and diabetes behind almost 75% of deaths last year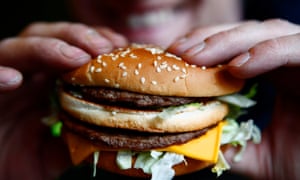 Almost 20% of deaths worldwide are attributable to an unhealthy diet, with high blood pressure and smoking completing the top three risk factors for reaching the grave, according to a new report on the state of the world's health.
The study, which focuses on 2017, has revealed that non-communicable diseases such as cancer and diabetes now account for nearly three-quarters of the 55.9m deaths worldwide, with experts stressing a large proportion of these are unnecessarily early.
"A lot of these problems are potentially preventable: things like high blood pressure and smoking are still causing a massive burden of mortality and ill-health," said Prof John Newton, director of health improvement at Public Health England and a collaborator on the project.
Globally, the leading cause of death is cardiovascular disease, with abnormal tissue growth including cancers in second place, and chronic respiratory conditions in third. Among cancer deaths, lung cancer was the most common cause.
The data revealed that our behaviour is our biggest threat to staying alive, with poor diet the greatest risk factor. Indeed, a bad diet was behind more than 19% of all deaths worldwide in 2017, and almost 70% of coronary heart disease deaths.
The Global Burden of Disease study is a huge international endeavour that looks at the causes and risk factors of death and sickness in every country in the world. Experts say the latest findings reflect an accelerating shift away from deaths relating to infections and problems around birth and towards diseases such as cancer and diabetes.
"Although we are used to seeing it in developing countries, the really strong message now is that this is a global phenomenon, even relatively poor countries are more troubled now by things like diabetes than they are from conditions such as malaria," said Newton.
"A lot of it is … down to the fact that people's way of life is changing, their diets are changing, people are eating too many calories, they are having too much fat and carbohydrate in their diet and they are not taking enough exercise."
Dr Christopher Murray, senior author of the research, said at present poor quality diet is a bigger driver than obesity but that "given the trend is very markedly in the wrong direction for obesity, it may be that the obesity component will be the most important in the future".
"[People] are free to change their diet but statistically we know you are very likely to eat what you ate when you were younger and what the people around you eat – so public policy can have a big influence through taxes and subsidies and other strategies," he added.
High blood glucose – which can lead to diabetes – was the fourth biggest risk factor for an early death, while almost 9% of deaths worldwide – about 5 million – were attributable to air pollution, putting it in fifth place.
Newton said it was a wake-up call. "[In] China and India they have been worried about this for some time, but I think the extent of the impact of air pollution globally is now getting much more attention, as it should be," he said.
The report also shows that the number of deaths from executions and police conflict worldwide have tripled, while the number of deaths from conflict and terrorism rose by 118% between 2007 and 2017. More than 36% of deaths in Syria and almost 22% in Iraq were down to fighting in 2017.
"It is really concerning – particularly that fact that the proportion of [conflict] deaths amongst children is disproportionate, which is a terrible indictment of the world in which we live," said Newton.
The opioid epidemic is also taking its toll, with the number of deaths from substance use disorders up by almost 24% since 2007, with a 77% jump for opioid deaths: about 110,000 people are thought to have died from the use of such drugs in 2017.
The authors also flag concerns over antibiotic use and resistance, noting that the number of deaths from extensively drug resistant tuberculosis has risen by 14% to 12,600 a year in the same timeframe.
But the report contains good news too: both the number of deaths and the death rate for HIV/Aids have more than halved since 2007, while the number of deaths from measles declined by 57%. Sudden infant death syndrome is also claiming fewer lives, with the death rate falling by more than 20%. The number and rate of deaths from Ebola have both dropped by more than 98% between 2007 and 2017.
The research also looks at fertility trends, revealing that total fertility rates continue to decline, likely in part due to falling child mortality. Indeed, 91 countries have fertility rates below "replacement level".
"We should expect fertility rates to come down and we should celebrate the fact that women have more choice over their fertility – that is a good thing," said Newton, although he said policymakers needed to take the trend into account when planning services including care of the elderly.
As for disability, the report shows that lower back pain remains the biggest problem, with headache disorders and depressive disorders making up the top three.
Experts say the report shows that progress in human health is fragile, as are the world's healthcare systems; the data shows about half of all countries have shortages of people working in healthcare.
Newton added that policymakers as well as individuals needed to take action: "Neither individuals nor governments should take the health of the population for granted."